Courses and Training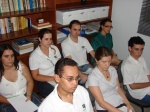 Since the early 2002, MD Brasil offer courses for human resources training in digital networks technologies, telecommunications and information technology. The programs aim to meet market needs related to improve qualification and skills of professionals working in planning, administration a production of networks.
The training courses offered by MD Brasil are mostly performed in major Brazilian and South American cities and often have the partnership of higher education and research institutes institutions.
Among the main programs, can be highlighted

Radio Frequency Training
Rádio Frequency for ISP's and WISP's:
Design and operation of multi-point wireless networks with special focus on radio frequency systems, antennas, waveguides, propagation, etc. Long distance point-to-point links planning, design and optimization.
This training is a compilation of engineering techniques specially tailored for Internet access providers working with unlicensed bands tipically 2.4 Ghz, 5 Ghz and 900 Mhz.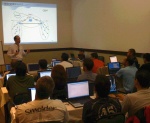 Mikrotik RouterOS Training
ISP / MTCNA:
This program covers several RouterOS features with special emphasis on Internet service providers' networks needs. The program allow the students to apply to the MTCNA (Mikrotik Certified Network Associate) certification exam.

MTCWE: Advanced program covering the main wireless features offered by Mikrotik RouterOS. The program prepares attendees to the MTCWE (Mikrotik Certified Wireless Engineer) certification exam.
MTCRE:
Advanced program that addresses the advanced features of static routing, routing policy, dynamic routing, VPN's and tunnels. The program prepare attendees to the MTCRE (Mikrotik Certified Routing Engineer) certification exam.
MTCTE:
Advanced program about traffic control and Quality of Service (QoS) using Mikrotik RouterOS. The program prepares attendees to the MTCTCE (Mikrotik Certified Traffic Control Engineer) certification exam.
MTCUME:
Advanced program that covers user access management techniques provided by Mikrotik RouterOS, like Hotspot, PPPoE and User Manager. The program prepares attendees to the MTCUME (Mikrotik Certified User Management Engineer) certification exam.

What says who already attended to MD Brasil trainings:
"As an Internet Service Provider owner and Director ot IT department of IFNMG – Januária Campus, I am very happy to know that there are courses in Brazil targeted to the highest levels of quality and professionalism. Congratulations to MD Brasil team!"
Valkennedy Castro