Consulting and Projects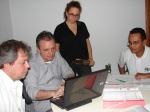 The MD Brasil offers consulting services and specific projects for each client's needs in the areas of infrastructure, connectivity, network security, and quality of services.The company also has expertise in industry regulation, caring for equipment approval processes for national and international clients as well as the design and monitoring of requests for authorization of services with the FCC.


Services are offered by MD Brasil:

Radio links to backbone formation
Studies and design of radio links to cover great distances in free bands and licensed bands.
Corporate Connectivity
Implementation of base stations (BTS's) point to multipoint interconnections of business units of companies, public administration, universities, etc.
Mesh Networks
Design and implementation of infrastructure networks meshed (mesh) or metropolitan condominiums, university campuses, etc.
Network Security
Analysis and proposed systems oriented access security and privacy of customer data. Configuração de firewalls personalizados para a eliminação de tráfego indesejável e enfrentamento de ataques provenientes tanto de ofensores externos como da própria rede. Custom Configuration of firewalls to eliminate unwanted traffic and facing attacks from both external and offenders of the network itself.
Qualidade de serviço Quality of service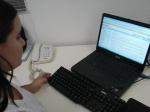 Aplicação de técnicas de análise e classificação de tráfego para a priorização de serviços com base nas necessidades dos clientes. Application of techniques of analysis and classification of traffic for prioritization of services based on customer needs. Especificamente para Wireless, utilização eficiente dos recursos de priorização de tráfego em nível de acesso ao meio físico com WMM. Specifically for Wireless, efficient use of resources for traffic prioritization at the level of media access to WMM.
Assessoria em assuntos regulatórios Advising on regulatory issues
Assessoria e projetos na área regulatória orientando quanto à(s) licença(s) necessária(s) junto à Anatel – Agencia Nacional de Telecomunicações, para diversos tipos de Serviços de Telecomunicação em especial nas licenças de SCM – Serviço de Comunicação Multimídia, SLP - Serviço Limitado Privado e STFC – Serviço Telefônico Fixo Comutado Advising and guiding projects in the regulatory area as to (s) license (s) need (s) with the FCC - National Agency of Telecommunications, for various types of telecommunication services especially in SCM licenses - Communication Services SLP - Services Private Limited and STFC - Fixed Switched Telephone Service